Edit & manage a PDF and send it for signing with signNow.
Form Security and Authentication For Free
Instructions and Help about Xih8yrcs9ojrx56na
Signer Authentication and Security. Two-Factor Authentication Ttps Forms Office Com Pages Responsepage Aspx Id Dqsikwdsw0yxejajblztrqaaaaaaaaaaaamaanfudazundlaqvlkteo2mtzeselst0jtrkxcwta0oc4u
Has anyone attempted to steal your online information lately? We understand that while many of you like the convenience of logging in to your online accounts with a single click, others are more interested in enhanced security options. In order to help prevent phishing for your login credentials, pdfFiller is one of the first document management services to develop an account login with two-factor authentication.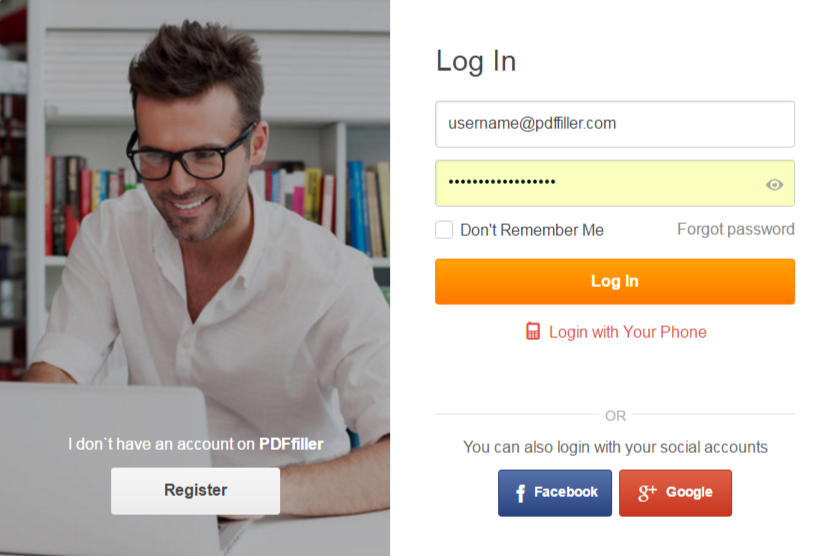 If you go to our login page, you'll notice that there are now four different login options available. The first is the traditional email and password combination. Remember that if you click on the checkbox next to 'Remember Me' and close pdfFiller without logging out, the next time you open pdfFiller, you will be taken directly into your MyDocs page. There is also an option to retrieve your password here using an email or phone number. For those of you for whom security is a priority, pdfFiller also allows you to login with your phone number. This recently added option, available to those who have a phone number saved in their account information, requires a two-factor authentication process, similar to what you may have encountered when dealing with your online bank accounts. Simply click the 'Login with Your Phone' button and you'll be taken to a page where you can enter a phone number. After clicking 'Send Pin' you'll receive a code via SMS. Enter this code and click 'Log in' and you'll be taken directly to your MyDocs page. This method, which requires two keys for account entry, helps prevent phishing and makes it much more difficult for a stranger to access your personal information.